"You learn best when you can teach someone else," says Ying (Alison) Cheng, describing the Summer Education and Engagement for Data Science (SEEDS) program, which was recently recognized as part of the summer Research Experience for Undergraduate program for a Presidential Team Irish Award.
Cheng, associate director of education initiatives for the Lucy Family Institute for Data & Society and professor of psychology at the University of Notre Dame, has directed SEEDS since its launch in 2022. The program successfully graduated its second cohort during the summer of 2023 at a ceremony featuring presentations by six local high school students and three undergraduate student mentors.
At the heart of the SEEDS program is an inclusive mentorship structure. Interested faculty work closely with undergraduate students from the University of Notre Dame and Saint Mary's College to design engaging data science curricula and hands-on projects. After five weeks of training and development, the undergraduate students then serve as near-peer mentors to area high school students who have been selected through Notre Dame's Upward Bound program, which has a long-standing history serving students from under-resourced local communities. For the remaining three weeks, SEEDS participants work together on the projects, delivering high school students the experience of learning skills in data science by engaging with college mentors while offering undergraduate students the opportunity to develop leadership and mentorship skills as they reach the project's goals.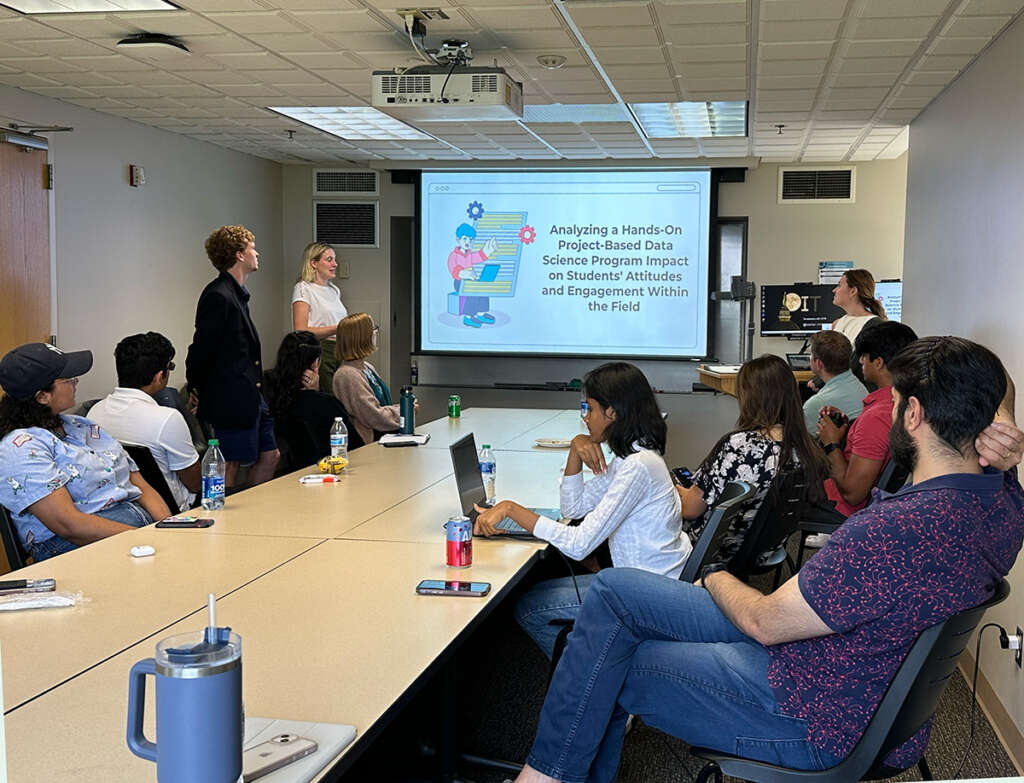 The SEEDS program was inspired by the success of the Interdisciplinary Traineeship for Socially Responsible and Engaged Data Scientists (iTREDS) program, which trains undergraduate students at Notre Dame and Saint Mary's in data science. Several previous iTREDS participants have applied their skills towards the project-based learning goals of SEEDS, assisting students in the development of projects that explore socially conscious topics through the introduction of foundational data science ethics, programming tools, and data storytelling.
Sugana Chawla, data science education program manager for the Lucy Family Institute, describes the SEEDS program as, "a wonderful opportunity for undergraduate scholars to expand data literacy in underserved communities through K-12 engagement." She further reinforces that, "The South Bend-Elkhart region is our common home, and creating such opportunities for K-12 students is a fantastic example of being socially responsible and engaged data scientists, which is at the core of the iTREDS program."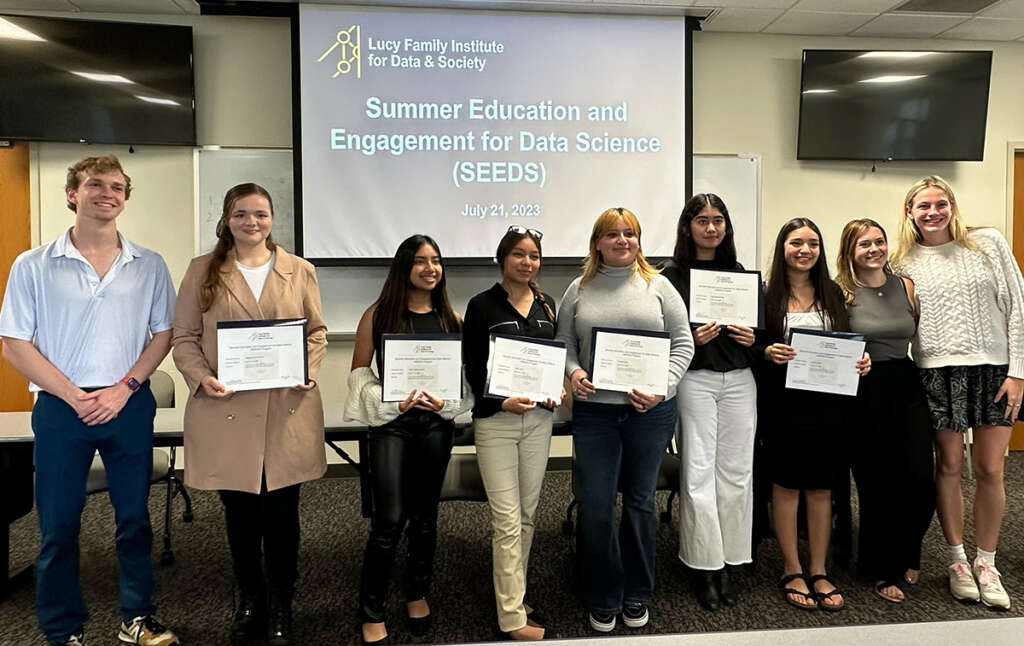 The summer program culminates in presentations that are conducted by the undergraduate and high school students. Students also participate in exit interviews, which help Cheng and other Lucy Institute faculty to design the program's future goals.
"SEEDS receives overwhelmingly positive feedback from the students that we work with. We were initially surprised at how popular the program was with female participants during the 2022 cohort," Cheng said. Cheng also explained that the program's popularity with women is important given the low rate of female participation in many data science programs and careers. Bucking this trend, the second SEEDS cohort featured an all-female group of high school students.
The SEEDS mentorship program is open to undergraduate students involved in data-science related disciplines. Cheng is optimistic about the progress of the first two cohorts of SEEDS and hopes to cultivate an even greater interest in data science by serving larger numbers of South Bend-area students. Applications for interested Notre Dame and St. Mary's undergraduate students will open in early spring of 2024.
For more information on the iTREDS program, please contact the data science education program manager, Sugana Chawla at schawla@nd.edu. For more information on the SEEDS program, please visit the Lucy Family Institute website or contact Alison Cheng at ycheng4@nd.edu.
Contact:
Christine Grashorn, Communications Specialist
Notre Dame Research / University of Notre Dame
cgrashor@nd.edu / 574.631.4856
research.nd.edu / @UNDResearch
About the Lucy Family Institute for Data & Society
Guided by Notre Dame's Mission, the Lucy Family Institute adventurously collaborates on advancing data-driven convergence research, translational solutions, and education to ethically address society's wicked problems. As an innovative nexus of academia, industry, and the public, the Institute also fosters data science access to strengthen diverse and inclusive capacity building within communities. Our vision is to become the preeminent intellectual beacon, inspiring collaborative, equitable, and impactful data innovations as a global force for good.