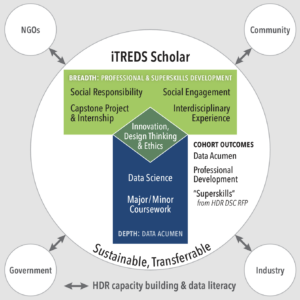 The newly launched Interdisciplinary Traineeship for Socially Responsible and Engaged Data Scientists (iTREDS) program trains undergraduate students at the University of Notre Dame and Saint Mary's College in data science through a lens of social responsibility and community engagement, including rigor and responsibility, ethics, society, and policy.
The mission of the two-year iTREDS program is to educate the next generation of data scientists in a way that ensure ethics and social responsibility are intertwined with delivering data-driven solutions in the real world. Students are encouraged to produce impactful and equitable solutions while appreciating the ethical implications of data science innovation and results.
Through the 15-credit program, iTREDS scholars develop an in-depth data science background as well as communication, critical thinking, teamwork, and other skills necessary for professional development. The program also includes experiential learning opportunities, via a capstone project and summer internship, in which students learn how to effectively engage with stakeholders, understand their needs, assess societal impact, and incorporate utility and value. 
Funded by the National Science Foundation, the iTREDS program is coordinated by the Lucy Family Institute for Data & Society, in collaboration with the Notre Dame's Department of Computer Science and Engineering, the Minor in Data Science, and the Department of Mathematics and Computer Science at Saint Mary's.