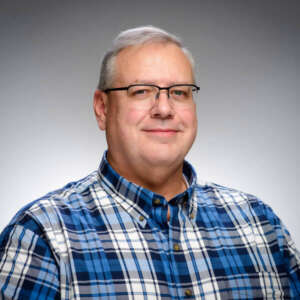 Software Engineer (AETL)
Contact:
624 Flanner Hall
wmorris2@nd.edu
Biography
William 'Russ' Morris is an AETL Software Engineer for the Lucy Family Institute for Data & Society. A Mishawaka, Indiana native, Russ graduated from Franklin College (Franklin, IN) with a degree in Computer Science.
Before joining Notre Dame, Russ worked locally as a full stack Software Engineer with Xcel Controls, Inc., Memorial Hospital, Liberty Mutual Insurance Co., and ICC-NTA Inc.
Russ brings his years of extensive software development experience in Industrial and Electrical Engineering, Medical, Finance, and Insurance industries to his role as a software developer in collaboration with the data scientists of the Lucy Family Institute.
Russ is active in the local community acting as an assistant high school track coach, member of the Knights of Columbus, and an active member of Queen of Peace parish in Mishawaka.