On Friday, January 27th, the Lucy Scholars will hold an open Health Equity Collaboration Hour in the Graduate Lounge of the Duncan Student Center from 4pm – 5pm.  This will be our second collaboration hour in our series of societal research issues.  Please come to share ideas, engage in research discussions, or just listen and learn.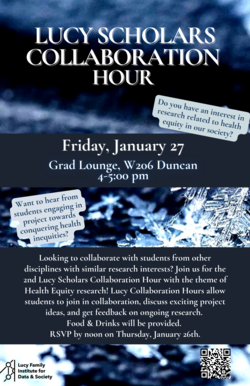 Do you have an interest in research related to health equity in our society? Health Equity is an important societal issue that has engaged students across many different disciplines. The Lucy Collaboration Hour is a great opportunity to come together to discuss ideas in an open forum. Areas of topics related to health equity will include: Healthcare Access, Neighborhood and Physical Environments, Education, as well as other related areas of interest that you may wish to bring to the table.
We invite you to the Lucy Collaboration Hour to brainstorm and discuss ways to conquer inequities in society. Lucy Collaboration Hours allow students to find collaborators, discuss exciting project ideas, and get feedback on ongoing research. Food & Drinks will be provided.