Are you looking for a paid internship to expand your skills in engineering, data science, consulting, or civic innovation? Are you interested in making a difference in the region?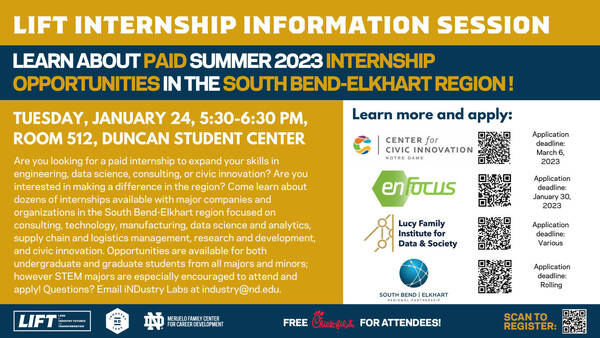 Undergraduate and graduate students are invited to learn about dozens of internships available with major companies and organizations in the South Bend-Elkhart region focused on consulting, technology, manufacturing, data science and analytics, supply chain and logistics management, research and development, and civic innovation. Opportunities are available for students in all majors and minors; however STEM majors are especially encouraged to attend and apply!
Learn more and apply:
Questions? Email iNDustry Labs at industry@nd.edu. Free Chick-fil-A will be provided for attendees!
Originally published at industrylabs.nd.edu.