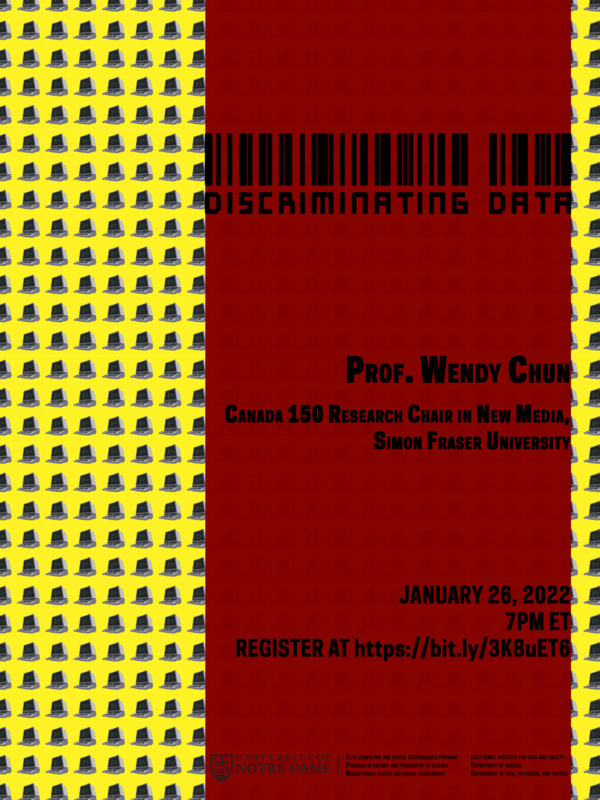 Wendy Hui Kyong Chun is Simon Fraser University's Canada 150 Research Chair in New Media in the School of Communication where she leads the Digital Democracies Institute. She has studied both Systems Design Engineering and English Literature, which she combines and mutates in her current work on digital media. She is author of Control and Freedom: Power and Paranoia in the Age of Fiber Optics (MIT, 2006), Programmed Visions: Software and Memory (MIT 2011), Updating to Remain the Same: Habitual New Media (MIT 2016), and Discriminating Data (2021, MIT Press), and co-author of Pattern Discrimination(University of Minnesota + Meson Press 2019). She has been Professor and Chair of the Department of Modern Culture and Media at Brown University, where she worked for almost two decades and where she's currently a Visiting Professor.
Registration required for this event must take place prior to the virtual book talk.
Life in Pixels hosts an ongoing series of transdisciplinary conversations thinking about how we can make sense of, and live with, our computational social condition today. Considering sociocultural, aesthetic, politicoeconomic, environmental, racial, and historical registers of technology together, the series will bring together people who think and do technology beyond disciplinary boundaries. The events are all designed as an ongoing series of conversations between scholars and practitioners in Media Studies, Science and Technology Studies, History and Philosophy of Science and Technology, Critical Digital Studies, and Literary Cultural Studies.
Life in Pixels is generously sponsored by the Ruth and Paul Idzik College Chair in Digital Scholarship, the Program in History and Philosophy of Science, the Lucy Family Institute for Data and Society, the Navari Family Center for Digital Scholarship, and the Department of Film, Television, and Theatre at the University of Notre Dame.