*This event has been postponed and will not occur on September 29th. Updated information will be available soon!
Description
What do AlphaFold2, ESM 1 & 2, ChatGPT, GPT-4, DALL-E, and a growing list of generative AI methods have in common? Without getting into the weeds of architectural details, the word disruption comes to mind. Indeed, those of us who started our love affair with AI because we wanted to advance the human condition are quite familiar with disruptions. Molecular biology has the honor of experiencing many disruptions due to ground-breaking findings by Darwin, Miescher, Rosalind, Watson and Crick, Anfinsen,Scheraga, Perutz and Kendrew, Karplus, McCammon, Levitt, Warshel, Scheraga, and more recently due to rapid advances in Generative AI.
Join Amarda Shehu as she showcases some of her laboratory's work on generative AI before, and after deep learning. She will tie this work to a central question in AI, learning the right representation, and will instantiate it on diverse wicked problems in molecular biology and human health. The talk will include large language models, and will demonstrate the foundational and applied work being conducted with them. The latter will span protein space and AI policy space. Throughout the presentation Shehu will reinforce not only what has been gained from generative AI but, perhaps more importantly, what yet remains incomplete in our understanding.
About the speaker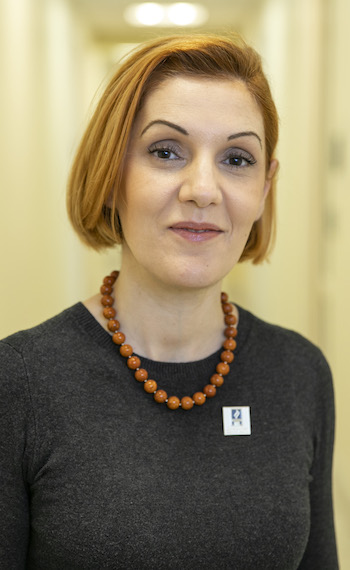 Amarda Shehu is a Professor of Computer Science and Associate Dean for AI Innovation in the College of Engineering and Computing at George Mason University, where she also serves as the Associate Vice President of Research for the Institute for Digital Innovation. Shehu founded and is an Inaugural Founding Co-Director of Mason's Transdisciplinary Center for Advancing Human-Machine Partnerships. She served as an NSF Program Director in Information and Intelligent Systems in the Directorate for Computer and Information Science and Engineering during 2019-2022. Shehu is a Fellow of the American Institute for Medical and Biological Engineering and has been additionally recognized with the 2022 Outstanding Faculty Award from the State Council of Higher Education for Virginia, the 2021 Beck Family Presidential Medal for Faculty Excellence in Research and Scholarship, the 2018 Mason University Teaching Excellence Award, the 2014 Mason Emerging Researcher/Scholar/Creator Award, the 2013 Mason OSCAR Undergraduate Mentor Excellence Award, and the 2012 National Science Foundation (NSF) CAREER Award. Her research is regularly supported by the NSF, the DoD, and state and private research awards and makes contributions in both the foundations and the applications of AI, machine learning, and deep learning in diverse disciplines, from the life sciences to engineering.