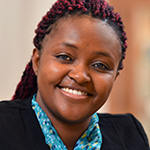 Program Director, Health Equity Data Lab
Contact:
610 Flanner Hall
574.555.1234 | mwachir1@nd.edu
Biography
Mary Mumbi Wachira, MS joined Lucy Family Institute as the Program Director for the Health Equity Data Lab. She holds a Master's in Global Affairs degree from the University of Notre Dame, where she was the recipient of a Kroc Institute Fellowship. In the past, she was a Global Health Research Associate/ Public Health Fellow with the St. Joseph Department of Health.